Chipotle Fundraiser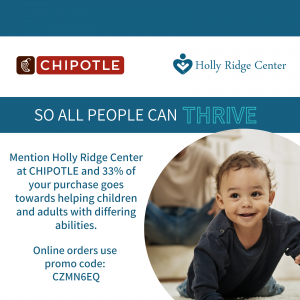 Dine out at Chipotle to support children and adults with differing abilities! Holly Ridge Center will receive 33% of all sales when you dine out between the hours of 4-8pm on Sunday, May 2nd.
Four ways to guarantee your purchases count:
o Show the cashier a digital flyer prior to paying
o Show the cashier a paper flyer prior to paying
o Order online and pick up by using the Promo Code CZMN6EQ on the Chipotle app or website.
o Flying flyer-free? Just mention the fundraiser to the cashier prior to paying
Avoid lines and order online, https://www.chipotle.com/, using the promo code: CZMN6EQ.
Printable flyer here Chipotle Flyer.